Clean coal technologies in the asean
Different technologies have been developed to tackle different environmental impacts from tackling air pollution, to cutting CO2 emissions and reducing water usage. These technologies mitigate the environmental impact of coal from mining through to end use.
The wider use of technologies to improve the environmental performance of coal will be essential, particularly in developing countries where coal use is set to increase.
This is particularly the case for technologies that cut CO2 emissions, such as carbon capture, use and storage (CCUS), which are critical to meeting our climate objectives.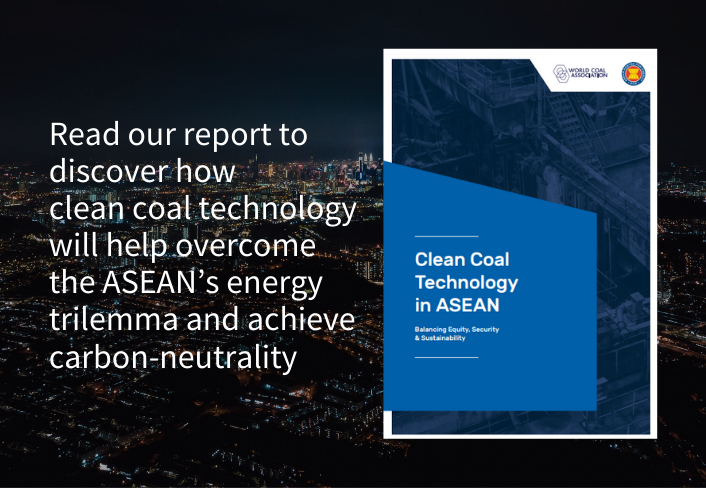 About the report
The ASEAN's growth in population size and economic stature, which is expected to become the worlds fourth-largest single market by 2030, will face growing energy demands, pressuring the region's energy trilemma of energy security, energy equity, and environmental sustainability.
To help overcome these challenges, clean coal technologies will be critical to provide carbon-neutrality, whilst providing affordable, reliable and energy security in the region.
The World Coal Association (WCA) and the ASEAN Centre for Energy (ACE) has launched a report titled 'Clean Coal Technology in ASEAN Balancing Equity, Security & Sustainability. The report provides a comprehensive analysis of the energy security and sustainable development opportunities that Clean Coal Technologies (CCT) promotes in the implementation of ASEAN Plan of Action for Energy Cooperation (APAEC) Phase II: 2021 2025 in facilitating the transition towards sustainable and lower emission development.
Our Findings
In our report, we found that the ASEAN is projected to rely on coalfired generation to ensure regional energy security for decades to come.
In 2005, coal contributed 27% of total electricity generation, rising to 41% in 2020.
By 2040, it is projected that coal capacity will reach 295 GW, accounting for 49% of power generation capacity in the region.
Although all fuel sources will be needed to meet ASEAN energy demand but, as one of the most affordable options in ASEAN, the role of coal will be vital. Clean coal technologies have a role to play in delivering on SDG 7 'to ensure access to affordable, reliable, sustainable and modern energy for all.
Clean Coal Technologies decouples pollution levels from economic activity and comprises three main methods as per indicated in the report:
Pollution control technology used in coal-fired energy production to reduce emissions by up to 99.9%.
High-efficiency, low-emission (HELE) coal-generation, including supercritical (SC), ultra-supercritical (USC), and integrated gasification combined cycle (IGCC) systems, which emit up to 33% less carbon than older subcritical technologies.
Carbon capture and storage (CCS), which involves storing captured carbon dioxide deep into a rock formation or for use in industrial applications.
Today, coal-fuelled power is the least costly way for thermal capacity expansion in ASEAN from total system cost perspective. Through VALCOE analysis for the ASEAN, we find that current VALCOE costs for both renewable and thermal energy-generating technologies, suggest that hydroelectric power and solar PV are currently competitive against coal.
However, hydropower energy has limited deployment potential beyond certain jurisdictions, therefore limiting its credibility as a baseload source of electricity.
Moreover, despite their relative future competitiveness on a VALCOE basis, due to their intermittent nature, solar PV and onshore wind simply cannot provide the same level of security of power supply as coal.
Looking ahead to 2040, coal-based technologies are largely unaffected by the value adjustments, with more advanced coal technologies having a slightly higher VALCOE compared to subcritical coal, due to the higher initial capital costs.
Through the development of the study, we took note that investment in HELE technologies can reduce ASEAN emissions by up to half a billion tons of CO2 as this table shows.
However, the widescale deployment of clean coal technology is being hampered by restrictive financing policies recently adopted by some banks.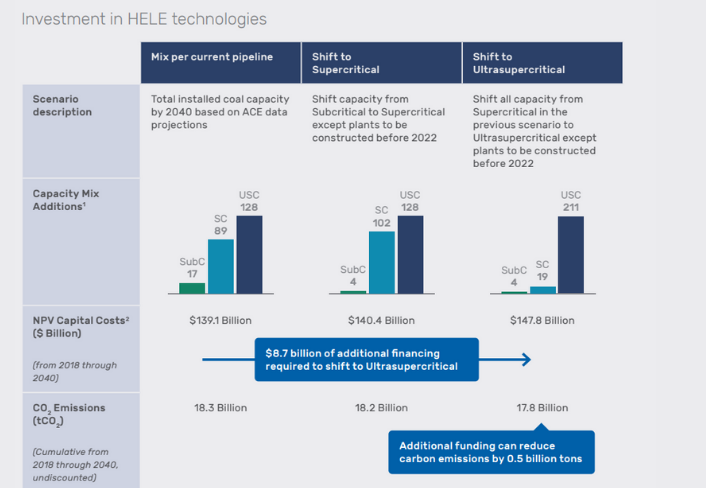 Our report finds that rather than reducing emissions, these policies may in fact lead to generators to compromise on plant design and deploy more polluting technologies. Moreover, restrictive financing regimes can limit potential economic growth by up to half a percent.
Our analysis indicates an additional investment of 6.2% (USD 8.7 billion) would be required to incentivise all coal combustion capacity to be built using ultra-supercritical technology, which is projected to reduce CO2 emissions by 500 million tonnes cumulatively by 2040 (approximately 25 million tonnes of CO2 per year), compared to a 'business as usual scenario.
Upgrading the existing pipeline of less efficient coal power plant to use Ultra Super-Critical technology would reduce annual emissions by 60 million tCOâ'', from 531 million to 471 million tCOâ'', would require $26 billion increase in investment and ensure the same level of security of supply.
Based on the report and its analysis, the report recommends to:
Encourage the international community to recognise an inclusive 'all fuels and all technologies of energy generation toward energy transition and energy resilience.
Encourage AMS to be committed in rapidly scaling up advanced HELE technologies and establish pathway towards CCUS.
Call on international finance and investment community to ensure and diverse financial support for cleaner coal projects and CCUS deployment in the ASEAN Region.
Encourage stronger partnership and collaboration with Dialogue Partners, International Organisations, and relevant stakeholders through AFOC and ACE as the main focal energy bodies to advance ASEAN sustainability in coal utilization.